Over the holidays, my family and I had the opportunity to try out some great new products by Crayola. With 3 young children, Crayola is a household name in this house. In my opinion, they make great age-appropriate products that keep moms in mind. (i.e. not so messy!)
The products we got to try were the Digital Light Designer and Marker Airbrush. Both of these products state for ages 6+, so my 5 1/2 year old son and I worked with these together. He absolutely loved these new products, and since he's still young I think he'll get lots of use out of these for years to come.
Joey is huge fan of stuff that glows and lights up in the dark, so the
Digital Light Designer
was right up his alley. What we loved the most was that we were able to create art and projects with the lights off. -It doesn't have to be played with in the dark... my kid just happens to think that is the best way to use anything that glows or lights up! A great feature of this product is its' ability to save your favorite drawings and creations. The interactive game mode was a lot of fun, with mazes and funny faces to keep Joey entertained for hours.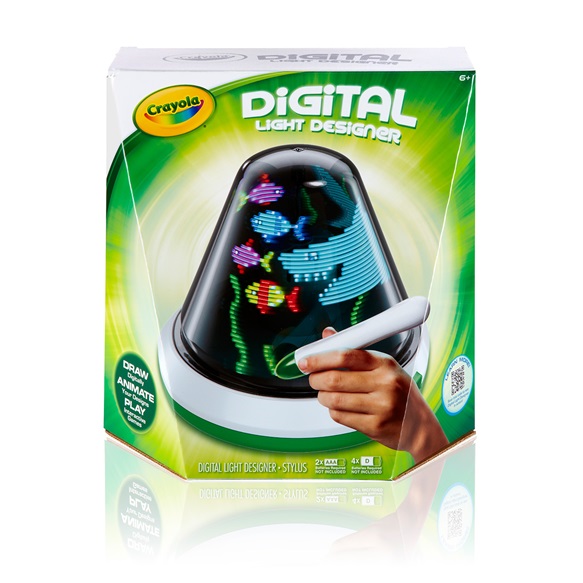 The
Marker Airbrush
is a more advanced toy that allows kids to create cool airbrush effects on lots of different surfaces. We only used it on paper for now. This toy is also recommended for ages 6 and up, so Joey was still a bit young to appreciate all that it can do. What I love about it is that you can attach any Crayola marker to the sprayer, and use it however you like. We will use this a lot as my kids get older. I'm sure they will even have fun spraying the driveway outside. It is a two-handed operation, which may be why its recommended for older kids, but with assistance Joey was able to make lots of fun airbrushed designs.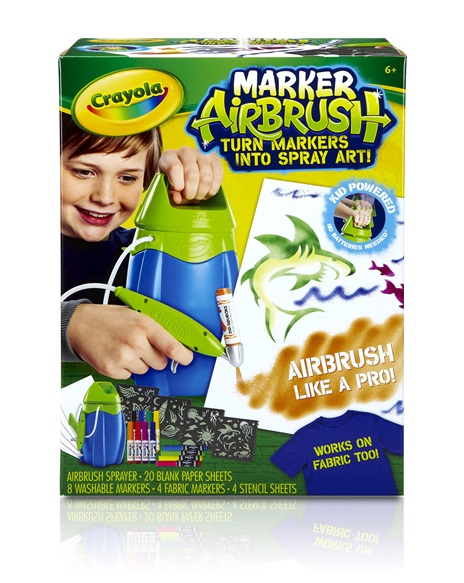 Both of these products are innovative and unique. They help kids express their individuality and can keep them engaged for hours. With so many different modes and applications I don't see my children getting bored with these anytime soon. And a huge plus in my book is that there is not a ton of mess! I stress about messy toys, and am always happy to find something that can ease that stress for me.
Unwrap the gift of imagination with Crayola by visiting
Crayola's Holiday Gift Guide
at
www.crayola.com/gifts
, where you can find the perfect gift to unleash your kids' creativity. And don't forget to
"Like" Crayola on Facebook
and
Follow them on Twitter
to keep up with the latest Crayola news and updates!
Want to try out these fantastic new Crayola products with your kids?
Leave a comment for a chance to win a gift pack with the Crayola Marker Airbrush and Crayola Digital Light Designer.
But hurry! This giveaway starts now and will end tomorrow, Wednesday, January 9th, 2013 at 11:59pm EST. Winner will be selected via Random.org and will have 24 hours to respond with shipping info. Good luck!
Disclaimer: The Crayola product to try, information, and additional gift pack have been provided by Crayola free of charge to me and the giveaway winner. All opinions expressed are my own.